WEST VALLEY WOMEN WOMAN OF THE YEAR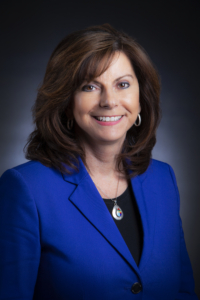 Cathy Carlat
Mayor, City of Peoria
Cathy Carlat, Mayor, City of Peoria, Named 2022 Woman of the Year
Cathy Carlat took office as Peoria's first female Mayor in January 2015, and was reelected in 2018 to serve a second four-year term. She has served on Peoria City Council since 2005, where she was elected three times to represent Peoria's largest and fastest-growing district.
Mayor Carlat is an avid proponent of fiscal responsibility and government accountability. On Council, her steadfast commitment brought recycling services to Peoria, shielded communities from development pressures, and successfully led key services to underserved areas.
Carlat is committed to cutting-edge public safety, attracting quality employment that embraces the workforce of tomorrow, and leadership to strategically plan for a lasting economy. These factors contribute greatly to Peoria's exceptional quality of life, to which she remains dedicated as Peoria evolves into a thriving modern city.
Under Mayor Carlat's leadership, Council has streamlined the budgeting process and passed balanced budgets in record time, used expiring fees to protect a treasured iconic mountain peak, improved the city's fire and medical service, and established citizen-led committees to modernize the City Charter and plan for Peoria's future. She is also a strong promoter of the protection of future generations by advocating for long-range, sustainable actions that will allow Peoria to meet the needs of tomorrow.
Utilizing her experience as a business leader, community leader, and city leader, Carlat proudly represents Peoria on many statewide and regional executive boards and committees. She is deeply involved with the Maricopa Association of Governments, Greater Phoenix Economic Council, Central Arizona Conservation Alliance, and the Arizona Commerce Authority.
Mayor Carlat serves as President of the League of Arizona Cities and Town's Executive Committee, and is the former President of the Arizona Municipal Water Users Association Board of Directors. 
Carlat was named one of the 2018 Most Influential Women in Arizona for her professional leadership, innovation, and community impact by AZ Big Media.
Having held positions as a District Manager for a Fortune 500 Company and Vice President of a commercial real estate firm, Mayor Carlat retired after thirteen years at Central Arizona Project to concentrate full-time on leading Peoria to its fullest potential. She and her husband Dennis have three children and three grandchildren.